Kaidan Head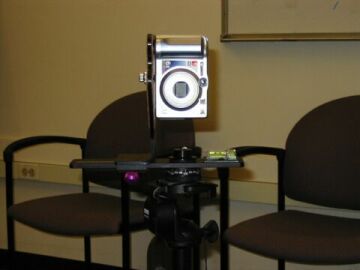 Some suggestions on capturing and transferring images:
Bring your own batteries (4 AA's), since the ones in the cameras (Canon

Powershot

A10) will likely be almost used up when you pick it up.
There is an camera instruction manual in the camera box.
The head should click to 18 positions. If it doesn't click, you need to adjust the mechanism at the base of the head.. Donít tighten the head too much. There is an online instruction manual here.
Before shooting images, make sure the optical center of the camera is approximately on the rotation axis of the

Kaidan

head. I have measured how you should configure your

Kaidan

head to make this happen and marked the configuration. When you mount the camera on the

Kaidan

head, please follow those markers. When you demount the camera, please be careful not to destroy the markers. (I do NOT suggest you to disassemble the

Kaidan

head. Only demount the camera when necessary.) Page 11-14 of

Kaidan

instruction manual tells you how to configure the head, if you are curious.
You can use bubbles on the levelers to make sure the head is mounted level.
Make sure the camera is turned off when you're finished. Also, do not leave the LCD monitor on longer than necessary, since the batteries drain pretty fast.
To download pictures you have at least two choices

use the PC with the flash card reader in

Sieg

228. You can take the flash card right out of the camera and insert in the slot.
install the Canon software on your machine (should be in the Canon camera box) and download via USB

You might want to go ahead and capture a hand-held sequence at the same time, while you have the camera.
During capturing, the lens should be most zoomed out ( the default mode of the camera). Otherwise, the focal length parameters we provide are NOT valid.
I recommend you to use Manual Mode of Canon

PowerShot

A10, so the

the

exposure and white balance are not automatically adjusted and hopefully consistent across the image sequence. I also recommend you capture images in portrait pose with small resolution (640*480) and save them in superfine compression mode. All those modes are described in the associated camera instruction manual. After capturing, you can use Photoshop or other image package to rotate the images.
Make sure you return the equipment promptly, so the next group can pick it up. If for some reason you think you are going to need more time, contact me and the next group (seitz@cs.washington.edu) immediately to see what can be worked out.