(she/her)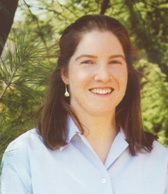 Staff Mini-Bio: Ruth
WHERE DID YOU GROW UP? WHAT WAS YOUR ACADEMIC PATH?
- I was born and grew up in North Carolina. I have a BS in Mathematical Sciences with a concentration in CS from the University of North Carolina. I came to UW for my PhD. I worked in Programming Languages, Compilers, and Parallel Computing before doing my PhD in Educational Technology & Pen Computing. I taught at the University of Virginia for 5 years before coming back to UW and have been here ever since. I've worked a bit in applying Computing to problems in the Developing World but mostly these days my research is in Computer Science Education.

WHAT ARE SOME OF YOUR HOBBIES, TALENTS, AND SKILLS?
- Running, Hiking, Backbacking, and generally getting outside.

HAVE YOU DONE OR EXPERIENCED ANYTHING REMARKABLE OR MEMORABLE?
- Once I was on a day hike where I had encounters with 3 different bears.

WHAT COMMITMENTS WILL BE CONSUMING YOUR CYCLES THIS QUARTER?
- Teaching two sections of CSE351! Co-leading TA Training! Ask me about the CS Education seminar CSE590E.


CSE 558