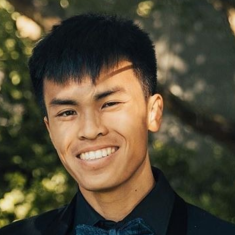 Staff Mini-Bio: Dylan Hartono
WHERE DID YOU GROW UP? WHAT WAS YOUR ACADEMIC PATH?
I grew up and still live in North Seattle (Lynnwood). I took my first CSE class in CSE 142 over the summer of my junior year and after years of hard work, just recently graduated from UW CSE!

WHAT ARE SOME OF YOUR HOBBIES, TALENTS, AND SKILLS?
I've recently picked up digital art over the past quarter and draw in my free time! I also boulder with Kenzie quite a bit now and train amateurly for long distance.

HAVE YOU DONE OR EXPERIENCED ANYTHING REMARKABLE OR MEMORABLE?
Seeing the sunset at Gasworks in the summer is a sight to behold.

WHAT COMMITMENTS WILL BE CONSUMING YOUR CYCLES THIS QUARTER?
- I'm an assisting artist for the comic book, Gum Saan to Golden Spike.
- Running and bouldering.
- But mainly, making sure you have a wonderful experience in CSE 333!
Dylan Hartono
Summer Instructor
hdylan1@uw.edu